Advice from a Pro: Preventing Baby Cardiac Arrest
To read the previous part, go to What to Do if the Baby or Child Becomes Unconscious?
In this article, we will talk about preventing cardiac arrest in a baby, with advice from a pro.
Don't leave the baby in the bath unsupervised;

Avoid latex balloons;

Avoid plastic packaging;

Avoid small toy pieces and coins;

Be careful of blind and curtain cords;

Always close the pool gate with a lock;

Be careful near spas or fountains.
To conclude, I know that future or new parents find this difficult to read. It's scary thinking about this happening to your little one. But I think knowing what to do can help save lives.
A priority for parents is understanding emergencies and acting properly when they happen. This entry has given you some things that you can add to your library of knowledge. Unfortunately, I'm unable to teach you what to do. It's critical to take a first-aid course. They're not expensive, only last a couple of hours, and can make a huge difference in emergencies.
Please watch my live video about first-aid for babies (in french) filmed with Karl.
Talk soon and I hope the family is doing well!
Marie
The Baby Expert
---
For more information:
CPR training in Quebec, including a list of telephone numbers by region for master instructors and instructors:
Suggested sessions (given by a certified instructor)
Training to intervene with babies
Clients: future and new parentsWhere: At home (requires a group of 6–12 people) or classroom.
Length: 2–3 hours.


Cost: from $25 to $35 per person, taxes included.

First-aid training providing certification issued by the Quebec Heart & Stroke Foundation valid for three years.

Clients: General, for adults, children and newborns.
Goals: learn to clear airways, use a defibrillator, intervene during serious allergy situations.
Length: 7–8 hours.


Cost: from $45 to $60 per person, taxes included 75 to 85$.

Additional first-aid training: burns, respiratory problems, cuts, bleeding noses, fractures, heatstroke, convulsions, poisoning, etc.


Length: 4 hours

Cost: included in the first-aid certification training
Classes available in the Estrie, Centre-du-Québec, Mauricie and Montérégie regions. For groups of 10 or more, the trainer can travel to Montreal South Shore.
Pour les groupes de 10 personnes ou plus, le formateur peut se déplacer sur la Rive-Sud de Montréal.
$5 discount coupon (PDF format) you can print for a Formation Vitalis class: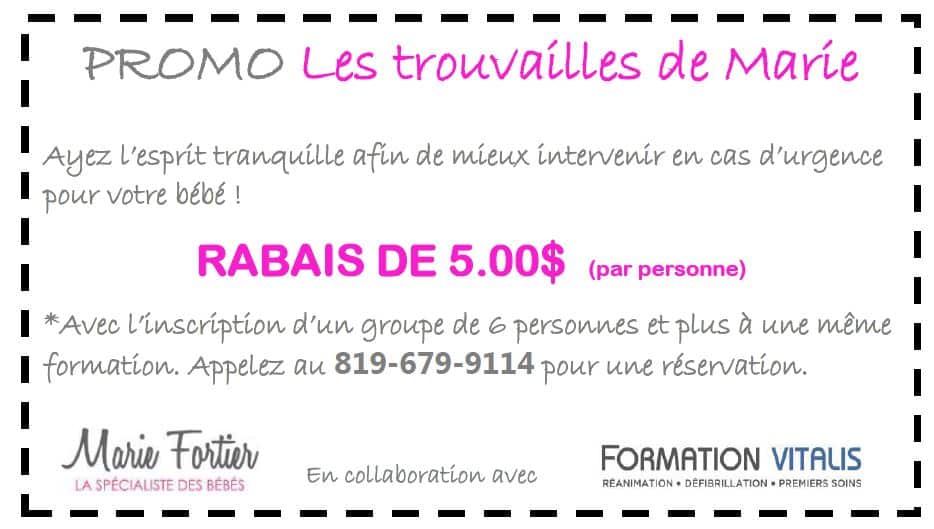 WARNING
Mariefortier.com
 and the information found on the website are practical tools for future parents preparing for the arrival of their baby.
The contents of the website do not in any way replace the skills, knowledge and experience of qualified health professionals. They know the facts, circumstances and symptoms associated with each individual. As such, the company Marie Fortier Inc. and the people who work for the company cannot be held liable for adverse effects or consequences stemming from the use of the information found on the website. It's the user's responsibility to consult with a doctor or other qualified health professional for personal questions.