Make sure you read the part about Fetal Alcohol Spectrum Disorder (FASD).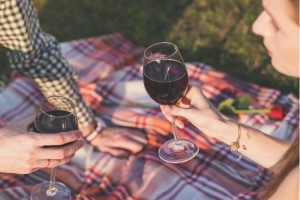 If you're a mother who would like a glass of wine or beer during breastfeeding, here are a few suggestions to reduce alcohol transfers to your baby through your milk. As long as the quantity remains limited and occasional, the baby will be fine except for maybe possible minor sleep disturbances.
Since we estimate that alcohol can pass through breast milk 30-90 minutes after consumption, here are several recommendations:
Breastfeed your baby just before consuming alcohol;
After drinking alcohol, if possible, wait at least 2-3 hours before breastfeeding your baby. Of course, this is easier if the baby has a breastfeeding routine;
 If you want to drink more when going out, keep a milk reserve to feed your baby when you're away. When you get home, you can pump your milk and throw it away to avoid transmitting higher levels of alcohol to your baby. Depending on how much you drink, you should skip one, two or even more feeds to make sure that the alcohol level in your milk is minimal. You can then return to your regular breastfeeding schedule.
Possible Effects of Alcohol on Breastfeeding
Even if you consume alcohol in moderation, keep an eye on your milk production because it can lower under the effects of alcohol. The ejection reflex can also be disturbed, so this is why it's important to be watchful.
What can you do if you think you need help to stop drinking?
WARNING
Mariefortier.com
 and the information found on the website are practical tools for future parents preparing for the arrival of their baby.
The contents of the website do not in any way replace the skills, knowledge and experience of qualified health professionals. They know the facts, circumstances and symptoms associated with each individual. As such, the company Marie Fortier Inc. and the people who work for the company cannot be held liable for adverse effects or consequences stemming from the use of the information found on the website. It's the user's responsibility to consult with a doctor or other qualified health professional for personal questions.