To consult Chantal's previous article, go to What relief! Such happiness!
Pour consulter le précédent récit de Chantal, voir Quel soulagement et quel bonheur!
The third week of life completed, and we feel like he has always been part of our family. Each day we learn more with baby Émile and with advice from our friends. I think we are becoming more serene day by day. We worry less, we understand a bit more, and he is already growing and changing.
We introduced our dog to him after one week,(  Nous avons introduit le chien) I'm reassured. I thought it would be more challenging to manage, but the lessons learned in dog behaviour classes were well worth it. We don't let the dog approach the baby on its own. Sometimes we will let the dog sniff the baby, times when both are very calm. Lukas, our dog, is generally collaborative. He steps back when we ask, despite his curiosity and interest in our little one. I thought the dog would be more anxious hearing the baby cry. Sometimes he is curious if Émile lets out a high-pitched scream, but no more than that. We can share our space, and everyone seems to find their place and be able to live together in harmony. Lukas also finds maternity positive because we are always with him, all day long. And if we feel that Lukas is becoming overexcited, we get him to lay down in a separate space, and he calms down before joining us. This stage made me very nervous, and I am so happy to see that it is working well. We are always in management mode, but it doesn't take as much effort as expected. It will be different when Émile moves around more, but one day at a time! The cats are also usually good. They have learned not to go into the baby's bedroom. So harmony reigns in the house.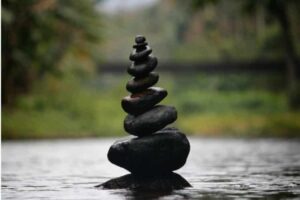 The latest worry we had was Émile's nasal discharge at 3 weeks. Mr. Émile had difficulty going back to sleep early in the morning. The back position seemed to eliminate the discharge. A few days of Hydrasense ( Quelques jours d'hydrasense )bring the situation back to normal. He is now sleeping more calmly and peacefully.
We have started to go out during the week. We are happy to see that Émile is well suited to our activities, either by sleeping in his stroller or discovering the world through his big, bright, sparkling eyes. He likes to observe his environment, which keeps him busy during his waking hours. He sleeps more during the day, or at least sleeps in his portable crib rather than in our arms. We went and saw an osteopath ( été voir une ostéopathe ), and she advised us to prepare a little nest to sleep in. So rather than using the big crib to sleep during the day, he dozes off in his little bed. He can nap 2-3 hours during the day. 
He is gradually interacting with us more and more during the day. Little yelps, or an attentive look. My sporty side is happy to see my son already turn his head when on his stomach. He can now follow my face with his beautiful blue eyes. He's our little marvel and is growing fast! I only have 2 weeks of leave left before being separated from him during the day. While I am not looking forward to this day, and the days are passing by so quickly, I will so look forward to returning home to mommy Rachel and Mr. Émile after work. It will be a new routine, not only for me but for Rachel too. She will have to take care of all the tasks during the day. But I still have time to enjoy this period. I'll remember these moments, which, according to some, can never be repeated. But they will give way to new moments of love and tenderness.
Heading back to our little angel…
If you want to continue reading, go to 4 Months and Still Don't Have all my Teeth.
Si vous souhaitez lire la suite, rendez-vous à 4 mois et pas toutes mes dents.
Chantal
The opinions found in this article are the author's alone.
WARNING
Mariefortier.com
 and the information found on the website are practical tools for future parents preparing for the arrival of their baby.
The contents of the website do not in any way replace the skills, knowledge and experience of qualified health professionals. They know the facts, circumstances and symptoms associated with each individual. As such, the company Marie Fortier Inc. and the people who work for the company cannot be held liable for adverse effects or consequences stemming from the use of the information found on the website. It's the user's responsibility to consult with a doctor or other qualified health professional for personal questions.