To learn more about electric breast pumps, go to the previous article, Electric Breast Pumps.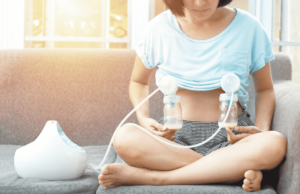 When a mother needs to start her milk production, or she needs more stimulation than that offered by store-bought breast pumps, she can rent a professional grade double electric breast pump. This breast pump is used in hospitals to start the lactation process in case of premature births or when the baby is not able to breastfeed at all. These breast pumps are costly to buy, and that is why they are rented or loaned from maternity wards. Some parents can get a loaned pump from community organisations or will have to rent them for the required about of time to promote milk production.
Voila. I think I have provided you with information about the different types of breast pumps and answered questions you may have about choosing the right model.

Be careful, because a poor quality breast pump labelled "electric" may not necessarily pump better than good quality manual breast pumps. If you pump your milk and nothing happens, make sure you have the right tool. Often, it's not your production that is the problem, but rather the breast pump you are using doesn't work. Don't forget that a poor quality breast pump can also injure the mother and compromise her breastfeeding rather than help it.
Used Breast Pumps
Health Canada considers breast pumps as a medical device for personal use. They are not designed to be shared between mothers. Only professional grade breast pumps are designed in this way, as long as the mother has her own tubing. Breast milk is a body fluid that can be contaminated, just like blood or vaginal fluids can. For these reasons, it is recommended to not share your breast pump.
To learn more in video form, please watch Choosing your Breast Pump (French only).
Talk soon,
Marie
The Baby Expert