To read the previous part, go to Origins of Food Allergies.
The symptoms of a food allergy can vary from one child to another and in intensity. When a baby is in contact with an allergen, they will react by producing antibodies and could present the following signs: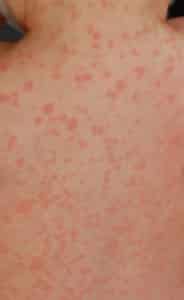 Rashes on their body;

Eczema or urticaria;

Skin swelling (ex.: swollen eyes, bloated face, swollen lips);

Constant congestion or nasal dripping, even if their general condition is fine and they don't have an infection;

Eyes water or itch;

Fast, shallow breathing. To be supervised as the immune system reaction can affect the respiratory tract and cause severe and dangerous respiratory difficulties.
In babies, two hours after ingesting the food, you might see:
Vomiting either instantaneously or within a couple of hours after ingesting the allergen;

Cramps and diarrhea (not to be mixed up with an exclusively breastfed baby's stool which is often runnier);

Sometimes persistent constipation (with or without anal fissure);

Blood (or mucus) in their stool (unless they have an anal fissure);

Systematically cries each time they're exposed to the allergen.
When should you be worried?
When swelling affects the face, mouth, tongue, lips;

When the general health of your baby declines;

When there is weight loss or a slowing of the growth curve;

When the baby suddenly vomits;

When the baby has difficulty breathing;

When their voice changes, becomes a bit husky;

When their lips or face become paler or bluish;

If the baby is weak or faints.
In these cases, call 911 immediately.
If you would like to continue reading, see What to do after an allergic reaction?
WARNING
Mariefortier.com
 and the information found on the website are practical tools for future parents preparing for the arrival of their baby.
The contents of the website do not in any way replace the skills, knowledge and experience of qualified health professionals. They know the facts, circumstances and symptoms associated with each individual. As such, the company Marie Fortier Inc. and the people who work for the company cannot be held liable for adverse effects or consequences stemming from the use of the information found on the website. It's the user's responsibility to consult with a doctor or other qualified health professional for personal questions.