The Impacts of Having a Baby that is Different
If you haven't already done so, read the previous part: Mourning a "Normal" Child.
The arrival of a baby that is different in the lives of a couple or family increases the challenge of becoming parents. The impact will be felt at many levels, and only those who have gone through the situation know how it feels.
Many variables or factors can help or harm the adaptation process for parents, such as:
The existing relationship between the couple

Personal resources to face change

Knowledge

Income

 Support network
Imagine facing the challenge of a baby with special needs!
The impact of having a baby with health problems can affect parents individually, the couple, their relationship with their baby, the other children if they have more, work, budget, their friends and family and support network.
Impact on Parents Individually
As a mother or father, you may have many personal questions when going through challenging life experience. Depending on the person, different elements can help you go through different mourning stages after the arrival of a baby that is different:
Personal capacity to deal with drama

Temperament

Life history
Many people will need time to find themselves, will need time to deal with the experience, release their emotions and stress to find balance and wellbeing.
Even though the parents are experiencing the same situation, that doesn't mean they will do so in the same way.
Some parents, often the mother, will have to meet the increased needs of the baby. Depending on the severity of the problem, this can mean a lot of time, special care day after day. A full on self-sacrifice.
Many parents will feel that their parenting skills are lacking. Will they be able to teach their child good self-esteem? How will they give their child self-confidence when they have difficulty accepting them?
Many parents will get psychological help to deal with the adaptation process. This is not a sign of weakness but of strength. A well-supported parent will feel better and give more of themselves to their children without ignoring their own needs.
The Impact on the Relationship with the Baby
The relationship with a new baby has to be created by each parent. The development of attachment to their child can also be affected by their condition.
If the baby needs technological assistance, extended hospital stays, intensive care, with little or no direct contact with the baby, this can make developing a relationship and attachment complicated.
Fearing the death of your child or focusing only on the present are feelings that can block the development of this relationship. Unconsciously, the parent may be thinking "What if they die? I would best not get attached because the pain will be even more intense." In the end, to protect themselves, they prefer keeping a distance and fleeing rather than facing the situation.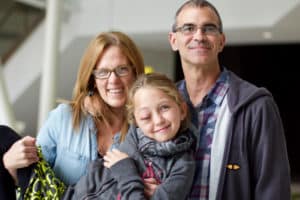 Impact on the Couple Relationship
As a general rule, having a baby doesn't bring a couple together. This is because you have to go through significant changes and adjustments to evolve the couple relationship through the parenthood dimension.
The couple is more affected when one of the two parents has to take on tasks or responsibilities that go beyond what is considered normal.
The care that needs to be given to a special needs baby can take up a lot of space, which leaves little time for the couple to maintain a loving relationship through a difficult period. Focus is on the baby, and the couple is not always a priority after childbirth. Communication and dialogue are essential.
Intimacy, libido and sexuality can be affected. Fear and anxiety of becoming pregnant again and going through the same thing. The drama can have a direct impact on the desire to have another child.
The couple's relationship is often weakened. Having a baby that is different is a challenge that increases the difficulty of being parents. You have to learn to be sensitive to one another and support each other.
Concerns about the baby's future increase stress and anxiety and have a direct impact on the quality of the relationship. The baby takes up a lot of space, both mentally and daily. Trying to live a normal life, without hiding the baby, is a project for the future.
For some parents, this challenge will be a turning point in their relationship. The end of the couple, the need to be alone, the desire to flee. The unsaid, the distancing between the two can, unfortunately, lead to temporary or permanent separation.
Impact on the Budget
The budget can be seriously affected by the arrival of a baby that needs specialised care. It's sometimes necessary for one of the parents to quit their job to take care of the baby, which has a direct impact on the family's income and lifestyle.
It becomes additional stress to manage daily, especially if there are other children in the family.
Imagine the expenses associated with extended or frequent hospital stays or the medical monitoring for the baby:
Transportation

Lodging

Parking

Food

Daycare costs for other children
Don't forget that you may need to adapt your car or the house to meet the needs of your child.
You may need to purchase or rent specialised equipment, which increases the financial burden on the parents. These expenses weren't expected.
So it's clear that the arrival of a baby with special needs will have a financial impact on the family, and it's impossible to estimate the costs over the short, medium and long term.
When the baby is being treated in a specialised unit, the parents can be referred to government programs. Some programs provide allowances to support parents up to a certain level. It won't cover everything, but it can help them cover some of the costs of these new responsibilities.
Impacts on the Other Children
Depending on their age, accepting a new brother or sister in the home is not always easy. These reactions by their siblings are normal and can vary for a baby without specific issues. But imagine with a special needs baby. The newborn's condition will lead to both emotional and organisational upheaval in the family. If the baby stays in the hospital and the family lives far away, there will be repeated absences by parents, which will have an impact on the other children.
Some older children can see or better understand the difference if it is visible. They may ask questions about the situation. They may be affected by comments they hear about their brother or sister who is different. Some will bury their feelings, scared that they will add to the burden and pain their parents are experiencing.
Children are also susceptible to their parents' emotions. If they feel that the parents are dismayed, their reactions may be more intense, especially for younger children. They want to get their parents' attention and once again feel safe.
When experiencing the shock of welcoming a baby that is different, parents may be present physically but are unable to be fully present mentally for the rest of the family.
Even if the couple knows they can't forget their other children, that they need to be present for them, aware of their suffering, fulfilling their role as a parent is often difficult. They may feel very guilty towards the other children in the family.
Adaptation takes time, life continues for the family, learning to live as normally as possible is something that takes work day after day. It takes time to reach a balance in this situation.
Impact on Family and Friends
The reaction of family and friends can vary from one person to another. Some people will be intimidated by the situation and feel very uncomfortable faced with the distress of the new parents. They don't know how to react, and some prefer keeping a distance rather than facing their discomfort.
Parents who have experienced the arrival of a baby that is different will tell you they don't know how to talk to their family and friends. They worry about their reaction and judgements. They often see sadness, grief and even pity in the eyes of those closest to them. Incomprehension and misconceptions sometimes lead to disparaging comments about the baby, and that can hurt the parents.
However, there are many members of the family and friends that will gladly support the new family. They will try to lessen the impact, in their own little ways, of experiencing this traumatic situation. They may:
Be there to listen

Provide psychological support

Be encouraging

Take care of the other kids

Help with the home

Cook meals

Offer transportation

Being attentive to the parents
This support from family and friends is good for the whole family, both for those that give and those that receive.
You can also get specialised support.
Impact on the Health Support Network
Following the arrival of a child with special needs, usually a health care team will be mobilised to support the parents who are still in shock after childbirth.
The team often consists of a nurse, doctor, different specialists and a social worker. These experts bring together their expertise to work with parents who are facing a new reality.
Other caregivers may join the team to meet the newborn's special needs, such as a neonatologist, psychologist, occupational therapist, physiotherapist, respiratory therapist and others.
Depending on where you gave birth, public health services can vary from one location to another. Some babies need to be transferred to a hospital that may be farther away, one offering appropriate specialised care.
Often, parents will need access to the latest technology for diagnostic tests, ultra-specialised care and a range of expert care teams.
People will guide you, will be there for you each day at your child's side during their hospital stay and can answer your questions. They can listen to your concerns and support you as best they can.
Later, when you return home with the baby, in-home care will take over and offer the required support in collaboration with rehabilitation centres. If needed, and to create a sense of community, there are parent associations and support groups both in person and online. These can be very useful to help you talk with people who have experienced living with a baby that is different in their family.
As events unroll, you will also be informed about financial support from the health network to pay for the purchase of some types of equipment, temporary daycare, and to give you a bit of a break with allowances for this purpose, and much more.
I think that life is full of surprises, and some are easier to deal with than others. We often focus on the negatives surrounding the life of our baby that is different. Often, we forget that even if parenthood is a road often full of potholes, it can lead to joy and beautiful surprises. There is so much beauty in difference.
By being in contact with these special babies, we learn about what is most important in life, which is not always visible with the naked eye. Going beyond appearances, the physical, difference. Behind the face, the defect, the different, hides an exceptional being that will always have someone at their side who will love them as they are, unconditionally.
We have to accept our reactions, our deception about our dream child's condition. And avoid being harsh on yourself.
It's difficult welcoming a baby that is different in your family because it has a significant impact on your life. You have to find a balance by respecting your limits and capacities. And never forget that you aren't alone. There will always be people who will work with you through this challenge when you feel lost, have doubt, are full of worry. We can't change the world, but we can try to ensure that there is always open space for each person.
Take care, and don't forget that each child is special.
Sending you positive thoughts,
Marie
The Baby Expert
Photo Source: Éric Plante
WARNING
Mariefortier.com
 and the information found on the website are practical tools for future parents preparing for the arrival of their baby.
The contents of the website do not in any way replace the skills, knowledge and experience of qualified health professionals. They know the facts, circumstances and symptoms associated with each individual. As such, the company Marie Fortier Inc. and the people who work for the company cannot be held liable for adverse effects or consequences stemming from the use of the information found on the website. It's the user's responsibility to consult with a doctor or other qualified health professional for personal questions.