CMV Diagnosis and Symptoms
Did you read the previous part: CMV Infection Risks and Transmission?
How do you know if you're already infected with cytomegalovirus?
Unfortunately, no very precise screening tests for the true presence of the infection exist. We don't have clear recommendations about what you can do. Currently, recognised effective ways to treat this infection don't exist. This is why public health officials don't recommend systematic screening of CMV before or during pregnancy. However, doctors can ask for targeted monitoring for a pregnant woman, like they do when they have flu symptoms. A follow-up ultrasound can also examine the baby's proper growth in these circumstances.
A diagnosis of cytomegalovirus infection is possible, but limited, using blood tests (serology) to detect specific "anti-CMV" antibodies. This indicates a previous or new infection.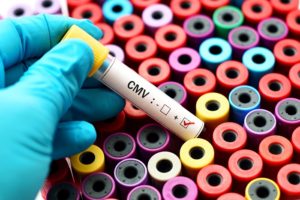 This analysis is more frequent for pregnant women and added to the doctor's clinical exam and data collection.
Even if the symptoms are similar to mononucleosis, healthy subjects don't have a sore throat when they are infected with cytomegalovirus, which differentiates the two infections.
Other more sophisticated ways to diagnose and screen for a previous or recent CMV infection exist, but they're infrequent and variable from one country to another. At 21 weeks of pregnancy, some pregnant women can have an amniocentesis to take a sample of the amniotic fluid. This will check to see if the baby was infected in utero.
Newborn infection can occur in their mother's uterus during any trimester of pregnancy. From 0.2% to 2.4% of babies will be infected congenitally. The CMV infection can also occur after birth through neonatal infection.
Most of the time the baby's diagnosed with a urine or saliva test. These look for the presence of bacteria, germs and other agents possibly responsible for the infection. A saliva test is quicker, but if the baby has their mother's milk in their mouth, she might be screened (through her milk) rather than her baby.
Cytomegalovirus Infection Symptoms
As I said earlier, 90% of infected healthy adults and children won't have specific symptoms. This is why it's a "silent" infection. But they may also have innocuous signs that aren't specific to the infection. It might look like viral influenza, with some fever, headaches, general muscle and joint pain, general fatigue and swelling of certain lymph nodes noted during a clinical exam, similar to mononucleosis.
Continue reading with Cytomegalovirus during Pregnancy.
Photo credit: Jarun Ontakrai
WARNING
Mariefortier.com
 and the information found on the website are practical tools for future parents preparing for the arrival of their baby.
The contents of the website do not in any way replace the skills, knowledge and experience of qualified health professionals. They know the facts, circumstances and symptoms associated with each individual. As such, the company Marie Fortier Inc. and the people who work for the company cannot be held liable for adverse effects or consequences stemming from the use of the information found on the website. It's the user's responsibility to consult with a doctor or other qualified health professional for personal questions.