The symptoms of a real constipation problem in a newborn
To learn about changes in a baby's stool, read Changes in Stool as Babies Develop.
The symptoms of a real constipation problem in a newborn can be numerous.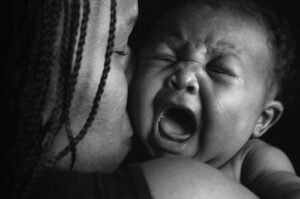 They are likely constipated if, in additional to their stool being infrequent:
it is hard;

it is dry (small hard balls);

the baby seems to have difficulty evacuating it – they become red, cry;

the stomach seems bloated and hard.
Les possibles conséquences de la constipation chez le nourrisson
pain when defecating;

appearance of an anal fissure or ulceration of the anal canal;

blood in their stool;

formation of a stool blockage in the rectum called fecaloma.

To continue reading, go to the following entry How to Help a Constipated Baby?
WARNING
Mariefortier.com
 and the information found on the website are practical tools for future parents preparing for the arrival of their baby.
The contents of the website do not in any way replace the skills, knowledge and experience of qualified health professionals. They know the facts, circumstances and symptoms associated with each individual. As such, the company Marie Fortier Inc. and the people who work for the company cannot be held liable for adverse effects or consequences stemming from the use of the information found on the website. It's the user's responsibility to consult with a doctor or other qualified health professional for personal questions.