In his previous article, François explained how to use sign language with your baby.
Hello boys!
I wanted to come back to the topic of babywearing.
Last weekend my baby didn't want to eat.  In fact, he did want to eat but was very impatient (tired), and didn't want to remain seated, buckled into his chair. I gave up and put him on the ground. But he continued to cry.
So I said to my wife "You eat! I am going to go babywear."
I got up from the table and placed my 13-month-old in the baby carrier. He calmed down immediately. I leaned over and grabbed a mouthful of food because I was hungry too. I was so surprised to see that the baby also understood that he wanted to eat. So I brought up a mouthful, which he gobbled up. He ate. And ate. And ate. Me standing there for 15 minutes, he seated in his baby carrier. He used baby sign language to tell me when he was full.

I was proud to find a way to feed my child when he is too tired or just grumpy and didn't have the patience to sit at the table.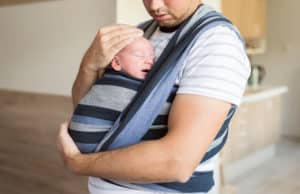 That is also the magic of babywearing.
You might think that my baby won a battle. Personally, I don't think so. I don't think he won anything. His tears were simply communicating that he needed a bit of human warmth. Adults don't always understand or take the time to understand what our babies are trying to tell us.
Have a great day!
François
The opinions in this article are the author's alone.

Crédit photo : Jozef Polc
WARNING
Mariefortier.com
 and the information found on the website are practical tools for future parents preparing for the arrival of their baby.
The contents of the website do not in any way replace the skills, knowledge and experience of qualified health professionals. They know the facts, circumstances and symptoms associated with each individual. As such, the company Marie Fortier Inc. and the people who work for the company cannot be held liable for adverse effects or consequences stemming from the use of the information found on the website. It's the user's responsibility to consult with a doctor or other qualified health professional for personal questions.