To learn about the different types of nipple pain, read the previous entry Nipple Pain.
There are many causes of nipple pain, and the following entry will try to explain causes and characteristics for both the mother and baby.
Potential causes due to the mother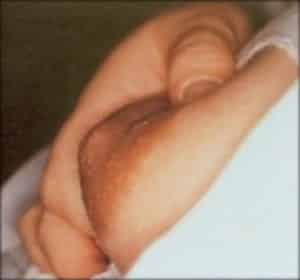 Anatomy of breasts and nipples. Flat, inverted or very large nipples, very heavy breasts and nipples difficult to see when breastfeeding.

Practical errors, positioning the baby poorly meaning they don't take the end of the nipple.

A suboptimal taking of the nipple.
Potential causes due to the baby
Short frenulum

The anatomy or morphology of the baby (face, chin, mouth, jaws) following birth. Here we can think of a short frenulum (the band of tissue under the tongue) which interferes with them sticking out their tongue. Their tongue can't go further than their lower lip, and this limits their ability to prolong the lip to grasp the nipple adequately. The baby will take the end of the nipple and pinch it, which will injure the mother.

Domed Palate

Domed palate (8 form). Often mothers will say, "It feels like they're pinching me." To identify a domed palate, the health professional will wash their hands and with their pinkie finger, nail on the tongue, place their finger in the baby's mouth towards the palate. They should feel a tight and deep cleft on the palate. Their finger should enter it and remain stuck, a bit like the nipple when the baby is feeding.

You can't change the baby's palate. This is when the feeding position becomes important. The position where they sit on your leg or the football position both work well.

Mechanical causes in the baby following birth can lead to nipple pain and injury for the mother. For example, if forceps were used to delivery. Sometimes the baby will have difficult opening their mouth wide, as their sensitive jawbones were traumatised at birth. There are babies who have torticollis at birth, and as they're always on one side, they have difficult feeding on one side.

Possibility of plagiocephaly can lead to facial asymmetries, and consequently the mouth is less symmetrical. If this is the case, it makes feeding even more difficult.
To continue reading this entry, go to the next part—Practical Tips to Help Nipple Injuries and Pain.
WARNING
Mariefortier.com
 and the information found on the website are practical tools for future parents preparing for the arrival of their baby.
The contents of the website do not in any way replace the skills, knowledge and experience of qualified health professionals. They know the facts, circumstances and symptoms associated with each individual. As such, the company Marie Fortier Inc. and the people who work for the company cannot be held liable for adverse effects or consequences stemming from the use of the information found on the website. It's the user's responsibility to consult with a doctor or other qualified health professional for personal questions.