For the general population, repeated exposure to ultraviolet UVA and UVB rays from the sun without protection can lead to skin cancer. Statistics are continually increasing based on the latest data from the Canadian Dermatology Association. The issue is disturbing and requires information campaigns and prevention starting from a very young age.
---
In this article:
---
It is strongly recommended that everyone protect their exposed skin from the sun with broad-spectrum sunscreen, meaning a cream that will protect from both UVA and UVB rays. The sun protection factor (SPF) must be at least 30 depending on the type of skin, age and degree of exposure.
Zinc oxide-based barrier creams can also be used on a very young baby's skin if it's exposed to the sun for an extended period. Why have recommendations changed for young babies?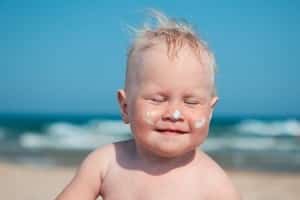 Babies have thinner, more fragile skin as their natural protection has not developed in their first months of life. Exposure to direct sun can lead to different skin reactions such as sunburn, urticaria, allergies, fever and dehydration. This can lead to more sensitive skin over the medium and long term, which can lead to problems in the future.  For children with pale skin or freckles or birthmarks, ATTENTION, these babies are at higher risk. Even babies with darker or black skin must be protected from the sun in the same way.
If you would like to get advice on how to protect your baby's skin, go to the next article How can I protect my baby from the sun?
WARNING
Mariefortier.com
 and the information found on the website are practical tools for future parents preparing for the arrival of their baby.
The contents of the website do not in any way replace the skills, knowledge and experience of qualified health professionals. They know the facts, circumstances and symptoms associated with each individual. As such, the company Marie Fortier Inc. and the people who work for the company cannot be held liable for adverse effects or consequences stemming from the use of the information found on the website. It's the user's responsibility to consult with a doctor or other qualified health professional for personal questions.