RESP Contributions – A Life-Long Gift!
Are you about to give birth or recently welcomed your baby?
Do your friends and family want to give a gift for the arrival of the baby? Why not!
What if they could contribute to your children's education?
You want what is best for your baby, which is normal. Since you learned you were pregnant, you read things on the internet about Registered Educational Savings Plans (RESP). You know it's important and want to contribute to one.
But with the arrival of the baby, you have many expenses, and you don't feel financially comfortable to contribute right now. Do the grandparents, godmother or godfather, uncles, aunts and friends want to give the baby a gift? Why not ask them to contribute to an RESP along with you? A small contribution today will, over time, become a big one for your baby. It will lower your financial burden when it comes time to pay for their studies.  
Education is a precious gift. I am sure that your friends and family will love the idea of contributing.
Here are a few events where a small amount of money invested in an RESP will be welcome:
 Baby shower: If you already know that your friends or family is organising a baby shower, why not ask the guests to contribute to opening an RESP? At first glance, it may not seem like a real gift, but over time it will make a big difference. To make their contribution feel special, why not place a piggy bank on a table so that people can add their cash or cheque? You can also have them fill out a card with a few words for the future graduate. When it comes time for them to start their post-secondary studies, you can give them both the money saved in the RESP along with the cards. A unique and personalised life-long gift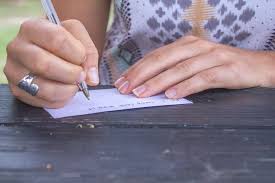 Welcome ceremony: Whether religious or not, a welcome ceremony for a child often involves gifts that are sometimes magnificent, while other times they are useless or short-lived. You can ask your guests to contribute money for opening an RESP. If you didn't use the piggy bank idea during your baby shower, you could use it during your welcome ceremony
Over the longer term, birthdays and Christmas gifts: In a recent poll (1) by Universitas (an educational savings organisation) about Christmas gift spending for children, it seems that children receive an average of more than $300 from parents and other gift givers. It may seem to be less festive opening an RESP for grandparents rather than a new video game. But why not do both? Give a smaller material gift that will please the child (toys, clothing, electronic device, etc.) and also a small amount for their RESP.
These are just a few ideas to help you save for your child's education without adding burden to the household budget.
Don't forget that parents are not the only ones who can invest in an RESP. Anyone who wants to help a child's education can open one. It's a life-long gift!
Talk soon,
Marie
The Baby Expert
WARNING
Mariefortier.com
 and the information found on the website are practical tools for future parents preparing for the arrival of their baby.
The contents of the website do not in any way replace the skills, knowledge and experience of qualified health professionals. They know the facts, circumstances and symptoms associated with each individual. As such, the company Marie Fortier Inc. and the people who work for the company cannot be held liable for adverse effects or consequences stemming from the use of the information found on the website. It's the user's responsibility to consult with a doctor or other qualified health professional for personal questions.