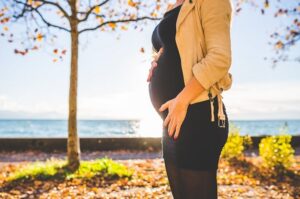 Pregnancy is a life experience, a big adventure towards the unknown. It's also a significant time in life for a woman, man, couple and family.
So many changes occur when your little embryo nests in your uterus! We often spend more time thinking about this little being's needs.
Good lifestyle habits for any person include a balanced and varied diet, rest, social activities, stable emotional state, regular exercise and daily management of stress. This is no different for a pregnant woman. You just have to make a few adjustments due to your new condition.
Regarding a pregnant woman's diet, you should know you don't need to eat for two! That's a baseless myth having spread over time.
You do provide your baby with all the nutrients necessary for their development. However, you should never double your food intake to meet both your needs and your growing baby's.
You should eat from each food group daily, but that doesn't mean eating whatever you want!
Once you decide you want to become pregnant, you should start taking folic acid, which is a complex B vitamin that prevents spinal malformations in the future baby. We also recommend avoiding tobacco, alcohol, and stop or significantly reduce your caffeine intake to increase your chances of conceiving and promoting the proper development of the embryo after fertilisation.
There are some foods you shouldn't eat during pregnancy because of the risks that they may harm your growing baby. These include tartar, raw eggs and fish as well as smoked or marinated foods. All of these foods can contain bacteria and toxins that can harm the fetus's health.
You should also let your appetite guide your food consumption. You need to increase your caloric intake as the pregnancy progresses and based on your energy expenditures, age and your physical condition. Many pregnant women worry about their weight gain. You should know that expected weight gain during pregnancy is directly related to your weight before becoming pregnant. If you had a healthy weight, you should gain between 25 and 30 pounds just for the pregnancy. If you were below your healthy weight, don't be surprised if you gain even more. Paradoxically, if you were overweight at the start of pregnancy, medical recommendations for weight gain will be lower, of course.
So, we can say that a proper diet combined with an active lifestyle will allow you to gain just enough weight. It will help you avoid pregnancy complications such as gestational diabetes or high blood pressure, and will also promote the best development for your baby.
Try to do physical activities that you like, and always do them based on your capacities and limits. Avoid doing nothing or doing too much, because both can cause more harm than good.
Like I often say to pregnant women I see every day, pregnancy is a transitional phase with a start and a finish. Everything you do will help your own health and your baby's! Please do what you can, as best you can, because it's worth it! You have my full support and wish the best for you.
Talk soon, everyone!
To learn more, read the following articles (in french):
Or watch these videos (in french):
Marie Fortier
The Baby Expert
WARNING
Mariefortier.com
 and the information found on the website are practical tools for future parents preparing for the arrival of their baby.
The contents of the website do not in any way replace the skills, knowledge and experience of qualified health professionals. They know the facts, circumstances and symptoms associated with each individual. As such, the company Marie Fortier Inc. and the people who work for the company cannot be held liable for adverse effects or consequences stemming from the use of the information found on the website. It's the user's responsibility to consult with a doctor or other qualified health professional for personal questions.