To read Melissa's previous article, go to My First Weeks of Pregnancy.
I am starting my 16th week today. I am no longer tired and have the energy to start being active. I signed up for prenatal aquafit courses, and I start in a week.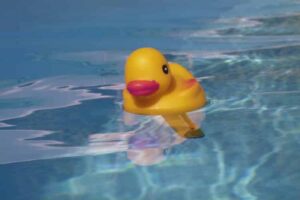 Swimming is one of the most recommended activities during pregnancy. In addition to providing some respite for all the added weight, the movements are soft and safe and help maintain muscle tone required for childbirth. It also improves blood circulation and relieves back pain.
A new activity requires a new outfit! Yep, I went shopping for a maternity bathing suit. It's not easy to find a bathing suit that will fit throughout the pregnancy. Now think about finding one after summer is over! First, do I choose a one-piece, tankini or bikini? 
I checked internet forums looking for comments and read a lot of disappointing ones about tankinis. Many said that they would always bunch up on the stomach. One-piece bathing suits seem to be well-liked, but after my research, good luck finding one that will fit for the whole pregnancy. So I chose a bikini that I can wear even after childbirth.
I started my shopping at Bikini Village, where I tried on adjustable bikinis. Super for the beach, but not quite sure for aquafit. I continued on to Thyme Maternity and found a bikini bottom that seems to hold well and adapt to weight gain. I completed the bikini with a top I found at Sports Experts. A bit more sporty, it offers excellent support during aquafit classes I was told. 
To finish the shopping adventure, nothing better than a chic bathing cap for the pool. You can find them in any sports store, and they start at $10. Next step, find my tummy sisters at the local pool!
Melissa is on her way to the third trimester. Read her article The 3rd Trimester – The Last Sprint.
Happy pregnancy!
Melissa
The opinions found in this article are the author's alone.