Cannabis Use by a Pregnant Woman
To learn more about cannabis, read the previous article Cannabis and Pregnancy.
Pregnant women use cannabis more than we think. Even if we have a good grasp of the growing statistics about cannabis use during pregnancy, many pregnant women won't admit that they use it to their caregiver. They hide the fact that they use it occasionally or regularly to avoid being judged or criticised, which will make them feel even more guilty.
Some pregnant women will say that they're unable to stop using it. They feel very stressed, or it helps with their nausea, or that they need to smoke a joint at night to sleep well. Others will explain that they use it because they have been doing so for years, it calms their impulsivity or anxiety, and think it's much better for the baby.
The first trimester of pregnancy is a period of significant fetal growth and development. So it's crucial that you be transparent with your health professional to get the right support and help to stop using cannabis as quickly as possible and lower its impact during pregnancy
Current Research About Cannabis During Pregnancy
Current research has shown different results about the possible impact of cannabis use during pregnancy, but many unknowns remain about this issue.
What we know is that the use of cannabis can impact the pregnancy outcome and the development of the fetus. It's unclear what its impact is because much depends on the product and quantity used and the trimester the baby was exposed to it. As you can imagine, it's difficult to use scientific evidence to prove its impact when we still lack extensive research.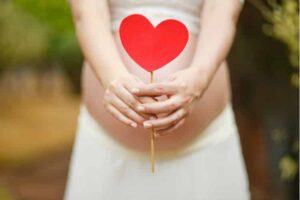 However, using any drug, whether occasionally or regularly, involves risks. The use of cannabis during pregnancy is an avoidable risk factor. When facing the unknown, why not just abstain from using it? Why take the risk?
Even if a pregnant woman uses it infrequently, the risk for the pregnancy is real, and its use shouldn't be encouraged. Health Canada and other public health recommendations are to avoid using marijuana before, during and after pregnancy to protect everyone's health.
To read the next part of this article, go to The potential effects of cannabis during pregnancy.
WARNING
Mariefortier.com
 and the information found on the website are practical tools for future parents preparing for the arrival of their baby.
The contents of the website do not in any way replace the skills, knowledge and experience of qualified health professionals. They know the facts, circumstances and symptoms associated with each individual. As such, the company Marie Fortier Inc. and the people who work for the company cannot be held liable for adverse effects or consequences stemming from the use of the information found on the website. It's the user's responsibility to consult with a doctor or other qualified health professional for personal questions.