When should you buy a nursing bra?
To read the previous part, go to Do you need a nursing bra?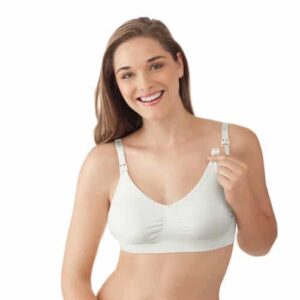 When should you buy a nursing bra? If you decide to buy a nursing bra, you'll want to know when you should buy it, right?
Since the mammary gland transforms throughout pregnancy, you shouldn't buy a bra early on. Your chest can grow one to three times your bra's normal size. In this sense, you should start shopping around 34 weeks of pregnancy. At this stage, there should be little change before term. And it's always good to have everything ready if your little one decides to show up early.
Some experts may also suggest that the right time to change your bra during pregnancy is when the bra you usually wear doesn't fit anymore. So you shouldn't buy a traditional bra, as it won't be useful during breastfeeding during the first months after childbirth. The bra you wore at the start of pregnancy should fit you once again about four months after delivery.
I have heard so many stories about fathers who had to go shopping for nursing bras while their partner was in the hospital. Not an easy task for a man, because we women have enough difficulty choosing them for ourselves!! 😊
When your baby is born, and you have tried breastfeeding for the first time, you will see how important a nursing bra becomes. Having one from the start is very helpful, and if you are still hesitant, you can still buy a second bra identical to or different from the first. As such, you will always have a clean one handy and avoid having to wash it daily.
To continue reading, go to What should you consider when buying a nursing bra?
WARNING
Mariefortier.com
 and the information found on the website are practical tools for future parents preparing for the arrival of their baby.
The contents of the website do not in any way replace the skills, knowledge and experience of qualified health professionals. They know the facts, circumstances and symptoms associated with each individual. As such, the company Marie Fortier Inc. and the people who work for the company cannot be held liable for adverse effects or consequences stemming from the use of the information found on the website. It's the user's responsibility to consult with a doctor or other qualified health professional for personal questions.