Another fascinating topic for new parents is purées! A baby's first solid foods are smooth purées, progressively introducing them to putting solids in their mouth. Here is my Ricardo for babies to help inform you.
---
In this entry:
---
Your baby has been fed exclusively with milk from birth. This liquid, which is easy to swallow, isn't comparable to the solids that we will get them to eat later. Of course, the baby needs to learn to consume other foods than just milk eventually. Moreover, parents, you will have to give them a variety of foods to get them to eat like you eventually. If your baby was premature, don't forget to use the corrected age for the introduction of solids.
A baby's sense of taste develops during their 18 first months. This is why it's important to give them different kinds of foods, even those that you don't usually eat. When your baby reaches six months, it's also important to introduce them to different textures, from very smooth through lumpy to thick. Around eight months, you can give them crushed or small pieces of food to eat.
To succeed, first-time parents need to know and understand the basics of this transition. This will help you and your baby during this life experience.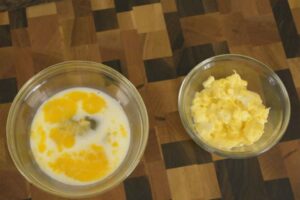 To examine the question, I met with Mélissa Labonté, a nutritionist, to provide  you richer information about purées, including:
The benefits of homemade purées and information about store-bought purées;

Allergens and possible reactions;

The equipment necessary to produce purées;

How to make purées with an egg, vegetables, fruit, legumes and meat;

Different textures;

Storage;

How to serve purées and how much.
You can see we have a lot to discuss! To do so, I will present three blog entries which will include recipes and a video about baby purées (in french only) that we filmed with Mélissa to provide you with a concrete visual tool.
I have also received questions about vegetarian purées or purées associated with gluten intolerance. I can't deal with special diets in these entries. However, I'm sure that some elements here will be useful for all families by focusing on the information that fits with your diet. For more information about specific diets, you should consult a nutritionist to get answers to your more personal questions.
The first entry will provide basic explanations before making homemade purées. I will deal with crucial things, such as introducing solid food to a baby, but I won't deal with the details. To be more to the point and avoid repetition, watch my Facebook Live video on Introducing Solids (in french) and my entry Baby's Diet: When to Introduce Solid Foods. This will help you make the proper transition between the two.
If you're parents who have opted for baby-led weaning, I have already covered this subject in a live video on Baby-led Weaning with Catherine Cusson (in french). You can also read What is Baby-led Weaning?
After watching these videos, the information below will provide you with details concerning purées and recommendations for each food group.
Starting Elements
If your baby is ready to eat solid foods, they must be able to sit in their highchair to receive their food;

Today there is no particular order in introducing solids, but meats and substitutes (eggs, legumes, tofu) are a priority after six months for the baby's iron needs. Print the Introduction to Solids for Infants guide (in french) for more details on this topic;

Introduce one new food at a time to the baby's diet, and repeat 2–3 times before introducing another to verify if they have allergic reactions;

An adult must always supervise a baby eating;

At the start, never add salt, sugar or seasoning to your purées so they can taste the pure food;

Then, often around eight months, they will eat from all food groups, different textures, spicy and seasoned foods like the rest of the family without problems;

Avoid foods that have a choking risk, such as peanuts or nuts, seeds, candy, gum, lozenges, popcorn, sliced sausage, carrots and celery;

Food quality is important. If you choose canned or frozen foods, they must be salt and sugar-free;

Ideally, don't soak foods before making the purée, as you lose a part of the nutritional value, particularly vitamins, in the water;

Rapid cooking in a bit of water in the microwave or steamed (in a steam cooker) is preferable to cooking foods directly in water as it keeps more vitamins. Most of the time, you can use the cooking water to make the purée;

Foods to avoid: honey, even pasteurised, before 1 year due to the risk of botulism. Never add it to a baby's meal. Honey is sometimes added to sweeten certain purées sold on the market. No raw or undercooked eggs, given the risk of salmonella poisoning. Never give your baby dried or smoked meats before 1 year.
To continue reading, go to the next part – The Differences Between Homemade and Store-Bought Purées.
Equip yourself to make your purée :