Hello Parents!
In this article, I will try to explain in some depth what at TENS device is. It's increasingly used during pregnancy and during the different stages of labour to help soothe pain women feel.
---
In this article: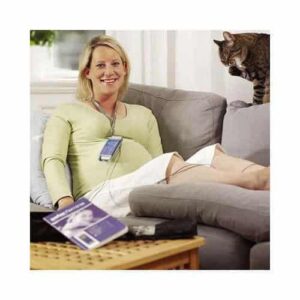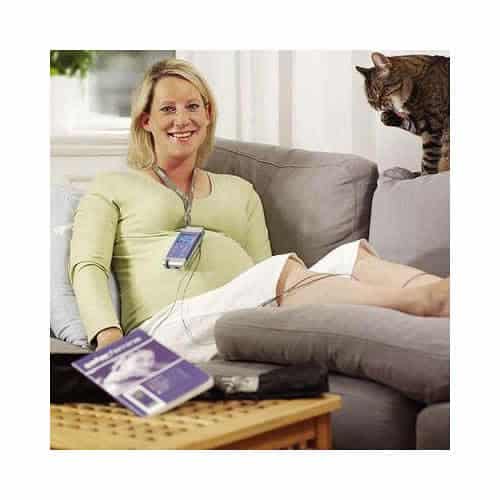 ---
TENS have been used in electrotherapy for a long time, in fact, for more than 50 years! It's used to soothe acute and chronic pain. TENS means Transcutaneous Electrical Nerve Stimulation.
Physiotherapists and physical rehabilitation therapists know this technology well as they often offer it as an option for patients who are suffering from different types of pain following an accident or due to chronic illnesses. TENS provide safe, natural relief with no side effects. While using a TENS for pregnant women or those giving birth is relatively new, it's been used for a while now in Europe. Since we know that each woman is different, I strongly advise you to follow the recommendations of your caregiver, who will evaluate your situation before suggesting the use of a TENS.
This type of method is offered during pregnancy and the different stages of labour to reduce the use of anti-pain medications and soothe lumbar, sacroiliac (pelvis) and sciatic pain. When you rent or purchase a TENS, you will typically receive training, which can include advice on use and personalised answers to your questions. (MODIFIÉ POUR CANADA)
Many mothers feel different pains associated with the increase of their metabolism, blood, water retention and weight that increases over time. We know that anti-inflammatory drugs aren't suggested during pregnancy. So a TENS is a safe and non-invasive alternative throughout pregnancy and during labour to soothe muscle and joint discomfort in the lower stomach, lumbar region and other locations (cervical, shoulders, arms, heavy legs…). The worse it can do is either not fully soothe or not soothe at all.
It's important to know that it can't harm if you respect the indications, precautions and contraindications noted by designers.
Indications
A TENS soothes acute or chronic pain associated with many health issues such as arthritis, back pain, herniated discs, fibromyalgia, muscle pain, tendinitis, post-op recovery, childbirth pain and much more.
Precautions
Even if a TENS has very few contraindications, it's important to take several precautions during use:
1. Never place the electrodes:
On the throat region;

On the head or face;

On your chest, if you have heart problems;

On an area where you have severe artery or vein problems;

On an area with irritated or infected skin or on a wound.
2. Make sure you have received training from a professional. The treatment plan will vary depending on the pain issue;
3. Always apply the electrodes on a muscle surface (never on a bony area as it won't be effective). The professional will guide you during your training;
4. The TENS should never increase the pain during use or after treatment;
5. Ideally, you shouldn't place the TENS directly on your stomach or lower back (lumbar region) during the first trimester of pregnancy.
To read about contraindications, go to TENS Contraindications.